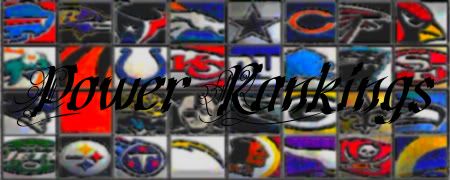 This is the first edition of a weekly NFL power rankings column I will be doing this season.
1. New Orleans Saints Super Bowl Champs, 1-0…need I say more?
2. Green Bay Packers A weak finish against the Eagles, but their offense definitely made a statement.
3. Baltimore Ravens Proved to be a legitimate contender knocking off the Jets on MNF.
4. New England Patriots Welker and Brady appear to be on the same page again, look out NFL.
5. Houston Texans Arian Foster had 231 rushing yards against Indy, and they have Andre Johnson. Playoffs?
6. Indianapolis Colts An embarrassing season opener. Unfortunately for the Colts, Peyton Manning can't help stop the run, although that is about the only thing he can't do.
7. New York Jets A tough loss against the Ravens, they'll bounce back.
8. Dallas Cowboys Only Dallas could start a season in that fashion. I believe it to be a sign of things to come.
9. Pittsburgh Steelers Every win without Ben is huge. If they can be 3-1 when he gets back, they have a shot at making a run in the playoffs.
10. Minnesota Vikings Once Favre gets some chemistry and rhythm with the offense, you'll see an improved performance.
11. Tennessee Titans Vince Young for 2010 comeback POY
12. New York Giants The G-Men always dominate weaker teams. Next week against the Colts will be a test.
13. Atlanta Falcons A disappointing loss to the Steelers, Matt Ryan needs to step up as a leader this season if Atlanta wants to be a top team in the NFC.
14. Kansas City Cheifs Jamaal Charles, expect big things from him this season.
15. Cincinatti Bengals The T.O. and Ocho show had a lame premier. I don't see Cincy contending in the AFC,
16. San Diego Chargers A matchup against the Jags next week is just what the doctor ordered for Phillip Rivers and the Bolts.
17. Miami Dolphins With a win under their belt, they have nothing to lose against Minnesota. With the wildcat, you never know what the Williams wall will be in for come Sunday.
18. Seattle Seahawks Facing off against the Broncos and Tebow will be an interesting game, almost worth watching.
19. San Francisco 49ers So much for division favorites. The Niners got trampled by the Seahawks in Week One. Worst division in the NFL goes to…the NFC West!
20. Washington Redskins They got lucky at the end of the game against the Cowboys. McNabb to Moss could be something NFL fans hear a lot this year, just not in the postseason.
21. Arizona Cardinals They had a close call against the lowly Rams, but can get by in their divisional with the marginal talent they have.
22. Philadelphia Eagles With Kolb out and Vick in, the games will be much more exciting. Unfortunately, they won't be any more successful.
23. Detroit Lions Cheated out of a win Sunday, Detroit is still my sleeper pick for this season. They can win seven games even without Stafford in my opinion.
24. Chicago Bears Matt Forte was a huge bust last year. If the team wants to be even competitive this year, they will need an enormous season from him.
25. Jacksonville Jaguars There's a reason they get the least fans support in the NFL. Although they beat up on Tebow and the Broncos, the wins will be few and far between for the Jags in 2010.
26. Tampa Bay Buccaneers Freeman played well against the Browns, but I'm not convinced he can consistently perform that well this season.
27. Denver Broncos Reasons to watch the Broncos: 1. Tim Tebow.
28. Oakland Raiders Jason Campbell is only slightly better than Jamarcus Russell was.
29. Buffalo Bills They totalled 52 rushing yards in Week One. You can't win without controlling the ground game.
30. Carolina Panthers What are the Carolina Panthers without Jake Delhomme?
31. Cleveland Browns Delhomme actually played well for the Browns in Week One. For a low-ranked team, they do have capability of knocking off decent teams.
32. St. Louis Rams Sam Bradford threw the ball 55 times in his NFL debut. Way to ease him into the league St. Louis. He's definitely going to have a great career.