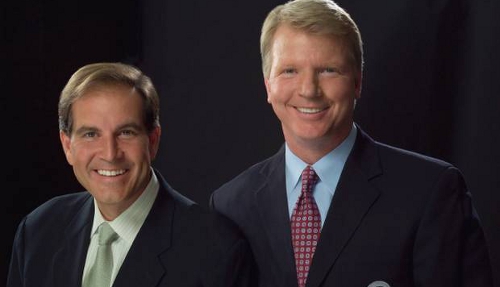 We still don't know who will be on the cover (the final vote is down to Calvin Johnson vs Cam Newton) but it is being reported today that Jim Nantz and Phil Simms will be the featured commentators on EA Sports' Madden 13 this year.
Gus Johnson and Cris Collinsworth have voiced Madden's action over the past few years and it is unknown whether the two will still be involved in this year's installment. My guess is that the two will likely get completely pushed out by Nantz and Simms, the CBS broadcasters who have worked together in the booth for nearly nine years.
Johnson is one of my favorite announcers but his exciting play-by-play never really transitioned and flowed very well in the Madden games. I really enjoy Nantz-Simms duo in the booth during the NFL season so I'm excited to see what they can bring to the table when I boot up my copy of Madden 13.
Along with the new announcing team, a new commentary engine similar to the one utilized in EA's FIFA series is expected to make its way into Madden this year and it is expected to help improve the flow and relevancy of in-game dialogue.
Overall, it sounds like a very solid change for Madden. I'm excited.
http://twitter.com/PeteBlackburn http://twitter.com/TheNosebleeds