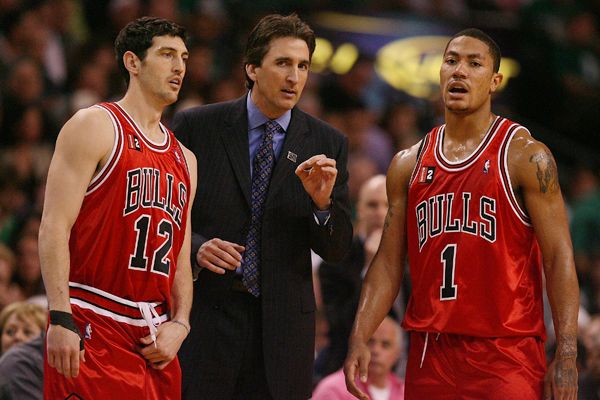 In what was a meaningful game for both teams in postseason positioning, the Chicago Bulls, fighting for their playoff lives, topped the Boston Celtics 101-93. The Bulls outscored the Celtics in the 4th quarter by 12, coming back from a 4 point deficit after 3 quarters. Chicago's backcourt duo of Kirk Hinrich and Derrick Rose did most of the damage, combining for 69 points. The big momentum shift in the 4th quarter was when Celtics big man, Rasheed Wallace (bust of the century), tipped a defensive rebound back into the hoop, with no red jerseys near him. Those 2 points gave the Bulls a 69-68 lead that they would nto relinquish from that point on.
The Celtics faced foul problems in the game, especially with point guard Rajon Rondo. Rondo picked up his 5th foul with roughly 6 minutes to go in the game, and sat the bench for the rest of the game. Nate Robinson filled in for him, but played terrible defense. On multiple occasions he let Rose drive by him and was often late on his rotations. I do have a bias against Robinson, as I was a big fan of Eddie House, but he and Rasheed are both liabilities defensively and should not be in the game down the stretch. Paul Pierce and Ray Allen added 28 and 25 respectively for Boston in limited minutes. Bulls starters played a total of 202 minutes, while Celtics starters played only 161. Boston coach Doc Rivers actually almost gave Pierce the night off to keep him healthy for the postseason.
For the Bulls, it is simply win and in for the playoffs. If they beat the Charlotte Hornets tomorrow night, they earn the 8th seed and play the Cleveland Cavaliers in the 1st round. For the Toronto Raptors to overtake that last position, they would need to beat the Knicks
and
Charlotte would need to beat the Bulls tomorrow night. Boston is now locked in as the 4th seed for the playoffs and will play either the Miami Heat or Milwaukee Bucks who are jockeying for the 5th and 6th seeds. The Heat are currently 1 game ahead of of the Bucks. The Celtics will play the Heat in the first round of the playoffs unless the New Jersey Nets beat the Heat tomorrow night and the Bucks knock off the Celtics in Boston. If those two things happen, then Boston would play Milwaukee in the first round and the Heat would draw the Atlanta Hawks at the 3 seed.